It is hard to believe, but another year has come and gone, which means it is time to look ahead to the new year and what 2019 has in store for GTA new construction condos.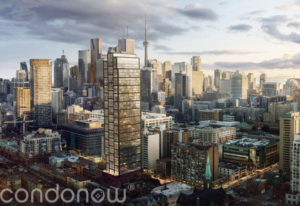 Prime Condos
CentreCourt Developments Inc. and Centrestone Urban Developments Inc
Location: Jarvis and Gerrard
CentreCourt Developments has joined in on the transformation of one of the most exciting growth neighbourhoods in the city; The Garden District with Prime Condos. This 45-storey, 579-suite tower will dazzle among the city skyline as architectural firm Page + Steel/IBI Group creates a diamond-patterned masterpiece.
Prime Condos will offer a buzzing podium that will include retail space, 24-hour concierge service, a wrap-around outdoor terrace, and indoor/outdoor amenities. Be a part of downtown's 'places to grow' where redevelopment will bring more transit, more shops and more places to play!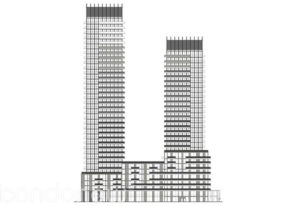 Line 5 Condos 2
Reserve Properties and Westdale Properties
Location: Yonge and Eglinton
Toronto's popular Yonge-Eglinton neighbourhood is set to welcome a pair of new condo towers branded as Line 5 Condos. The project is a joint venture between Reserve Properties and Westdale Properties. It is being designed by renowned professionals at Graziani + Corazza Architects, which is widely recognized as one of Canada's most accomplished design studios. Line 5 Condos is completely sold out but Line 5 Condos 2 launch is highly anticipated. Line 5 Condos 2 will add unique flair and character to this growing sector of the city that is popular with young professionals, and families with children.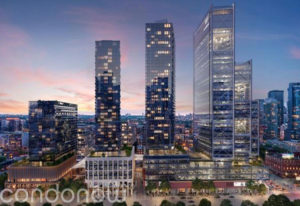 The Well Condos
Tridel/Diamond Corp/Riocan Real Estate Investment Trust/Allied Properties REIT
Location: Spadina and Front
Welcome to The Well Condos, Toronto's highly anticipated condominium. This tremendous mixed-use and master-planned community is located in the very trendy Fashion District. Bordering Spadina, Front, and Wellington, this community will have a mixture of retail, commercial, condominiums, and rentals. Architectural firm Hariri Pontarini will design the project. Local amenities, retail and office space, and nearby entertainment will definitely make The Well Condos one of the most coveted addresses in the city.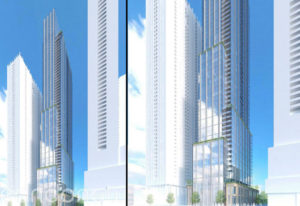 Cru Condos
Metropia Urban Design/Riocan Real Estate Investment Trust/Capital Developments
Location: 11 Yorkville
Located in Toronto's prestigious Yorkville neighbourhood, which is best known for having high-end shops, fashionista boutiques, exclusive bistros and eateries, and social scenes, offering you world-class style and extravagance. Cru Condos has a perfect Walk Score, implying that anything you need will be within walking distance and with a Transit Score of 95, there is no need for the use of a vehicle. You are just a 2 Minute Walk to the Bloor-Yonge Subway Station, giving you access to several bus routes and Subway Lines 1 and 2, connecting you to all corners of the city. Cru Condos is a mixed-use residential, commercial, and retail project that will offer a rare opportunity to invest in this valuable and highly sought-after corner of Toronto's real estate market.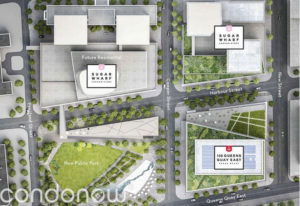 Sugar Wharf Condos 3
Menkes Developments
Location: Lake Shore Blvd and Freeland
The highly anticipated reconstruction of the LCBO Headquarters on Queens Quay will boast a total of 5 residential towers in the completion of the new community called Sugar Wharf. Sugar Wharf Condos 3 is being developed by Menkes Development and designed by architectsAlliance. Sugar Wharf Condos 3, named in unison with the Redpath Sugar Factory located across the street and the ever popular; Sugar Beach, is set to be the sweetest addition to Toronto's Waterfront Communities. Don't miss out on this once in a lifetime opportunity to live on Lake Ontario, with spectacular views of the city's waterfront and harbour.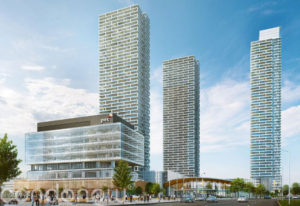 Transit City Condos 4
CentreCourt Developments Inc.
Location: Portage Pkwy and Millway Ave
Transit City Condos 4 is the fourth phase of this master planned community. The first towers have already sold out. Transit City Condos 4 is located in The Vaughan Metropolitan Centre; a 442-acre redevelopment that will become Vaughan's downtown core. Plans include entertainment, retail shops, a hotel, a convention centre, offices and more. Creating a pedestrian friendly environment is also a priority for the redevelopment, a 9-acre park will be right in the centre. The VMC Subway Station will be located right beside Transit City Condos 4, connecting you to all of Toronto. This is a very exciting addition to Vaughan.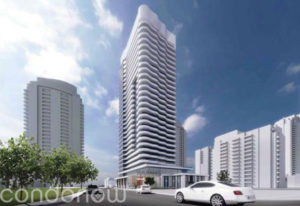 Azura Condos
Capital Developments
Location: Yonge and Finch
Capital Developments presents Azura Condos, a master-planned community just south of the Finch subway station. Residents of Azura Condos will enjoy living in close proximity to downtown Toronto, but still far enough away from all the hustle and bustle. Families, students, and young professionals will all be attracted to Azura Condos Situated on a leafy cul-de-sac off the main road, Azura Condos is a 29-storey building with 339 suites. Designed by IBI Group, the building will boast stunning exteriors and interiors. All residential suites will feature either a balcony or a terrace for enjoying some outdoor private time. Azura Condos will also offer stunning views of the city. Register today to learn more about this incredible opportunity.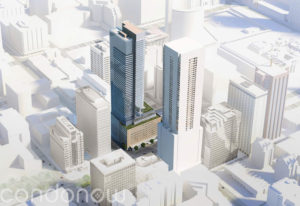 The United BLDG Condos
Davpart
Location: Dundas and University
The United BLDG Condos is located near some of the city's busiest employment locations; The Financial District, the Bay Street Corridor and Hospital Row. The United BLDG Condos has a near perfect Walk Score of 99, meaning daily amenities are all within walking distance. With a perfect transit score, The United BLDG Condos location offers world-class transportation with the subway located just a few steps away. Getting around Toronto is stress-free, no matter where you are headed.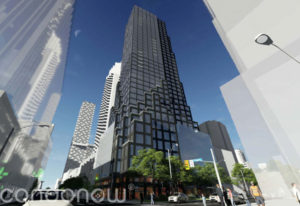 Y & S Condos
Tribute
Location: Yonge and Eglinton
The location of Y & S Condos ranks among one the city's most notable transformations and therefore the province of Ontario has designated it an "urban growth hub". This area has not only become a popular residential centre, but also a transit centre. Y & S Condos is a 36-storey, 288-suite building that will offer amazing indoor and outdoor amenities to its residents, including more spacious suites, perfect for growing families. With Eglinton Subway Station nearby and the Eglinton Crosstown LRT being built, the Yonge-Eglinton neighbourhood is quickly becoming one of the most sought after areas in the city.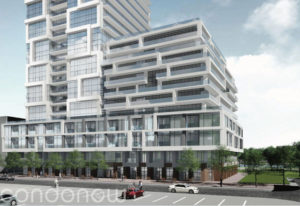 River & Fifth Condos
Broccolini Construction Inc.
Location: Bayview and Dundas
River & Fifth Condos is located near Queen Street East, an area of the city that is lined up with chic restaurants, bars, and boutiques. Residents of River & Fifth Condos will be close to Toronto's Historic Distillery District and St. Lawrence Market. This area of the city has been designated as a 'regeneration' area, as the neighbourhood is set for more residential, commercial and retail growth. River & Fifth Condos has prime access to the Don Valley Parkway and 24 Hour bus routes, making travelling around the City of Toronto stress free. With everything Toronto's Corktown neighbourhood has to offer, River & Fifth Condos is the perfect place to call home.