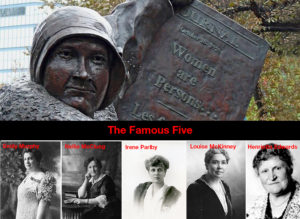 Quote from: October 18, 1929, Lord Sankey, Lord Chancellor of Great Britain
October 18 is Persons Day in Canada!
Famous 5 Foundation: 'Persons' Case 90th Anniversary, October 18th, 2019.
Nellie McClung, Henrietta Muir Edwards, Irene Parlby, Louise McKinney & Emily Murphy will be celebrated in Olympic Plaza, Calgary.
Persons Day
Courtesy of Government of Canada — Status of Women Canada
It marks the day in 1929 when the historic decision to include women in the legal definition of "persons" was handed down by Canada's highest court of appeal. This gave women the right to be appointed to the Senate of Canada and paved the way for women's increased participation in public and political life.
Each year, the Governor General's Awards in Commemoration of the Persons Case are awarded in the fall as part of Canada's Persons Day celebrations.
The History of the Persons Case
In Canada, the British North America Act (BNA Act) of 1867 set out the powers and responsibilities of the provinces and of the federal government. The Act used the word "persons" when referring to more than one person and "he" when referring to one person. Many argued the Act implicitly stated that only a man could be a person, which prevented women from participating fully in politics or affairs of state.
Governments also used the "persons" argument to keep women out of important positions. If the word "person" applied only to men, then the stipulation that only "qualified persons" could be appointed to the Senate of Canada meant that only men could be appointed.
In 1927, five women – who have since become known as the Famous Five – launched a legal challenge that would mark a turning point for equality rights in Canada. Emily Murphy, Nellie McClung, Louise McKinney, Irene Parlby and Henrietta Muir Edwards were journalists, politicians, reformers and activists from Alberta who asked the Supreme Court of Canada to answer the following question: does the word "person" in Section 24 of the BNA Act include female persons? After five weeks of debate, the Supreme Court decided that the word "person" did not include women.
Although shocked by the Court's decision, the Famous Five did not give up the fight and took their case to the Judicial Committee of the Privy Council of Great Britain in London, which was then Canada's highest court of appeal.
On October 18, 1929, Lord Sankey, Lord Chancellor of Great Britain, announced the decision:
"The exclusion of women from all public offices is a relic of days more barbarous than ours. And to those who would ask why the word 'person' should include females, the obvious answer is, why should it not?"
With this milestone victory, the Famous Five not only won the right for women to serve in the Senate, but also helped pave the way for women to participate equally in all aspects of life in Canada.