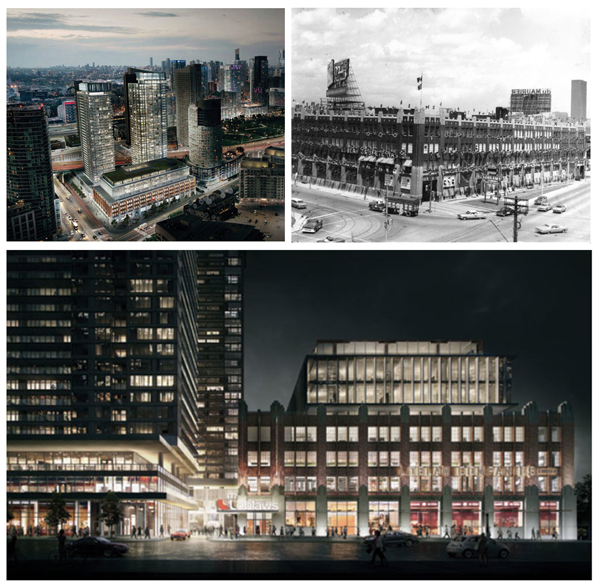 One of Toronto's most interesting development projects is currently underway at Bathurst and Lake Shore as the former Loblaw Groceterias warehouse has been almost completely reduced to rubble to pave the way for a new grocery store and condo complex.
The historic former Loblaw warehouse at Bathurst and Lake Shore is going to become a massive retail, office, and residential complex, if a planned renovation and expansion project comes to fruition.Developers are planning to dismantle the historic brick building, which is protected under the Ontario Heritage Act and listed on the City of Toronto's inventory of heritage properties, clean and reassemble it, brick-by-brick. A new structure will be added to the roof and some of the property developed for residential use.The 7-storey Art Deco warehouse opened in 1928 and served as Loblaw's head office as well as its central manufacturing and distribution facility until the 1970s. The Daily Bread food bank used the building until 2000, after which it fell into disuse.
In 2004, Loblaw filed for permission to knock down its former headquarters to make way for a supermarket, but the proposal was rejected by the Ontario Municipal Board.
When the restoration is complete, Loblaw will finally get its long sought-after new store inside the protected portion of the building. It will be modelled after the company's marquee Maple Leaf Gardens location, according to a press release. The new upper levels will be used as office space.
The entire project is due to be completed by 2019.
Chris Bateman is a staff writer at blogTO.