LOW ASK FOR RIVERDALE SEMI PAYS OFF WITH BIDDING WAR
DONE DEAL Sydnia Yu , Toronto, Special to The Globe and Mail
971A Logan Ave., Toronto
ASKING PRICE: $999,900
SELLING PRICE: $1.3-million
TAXES: $4,147 (2018)
DAYS ON MARKET: Six
LISTING AGENT: Sandra Pate, Royal LePage Real Estate Services Ltd., Johnston and Daniel Division
THE ACTION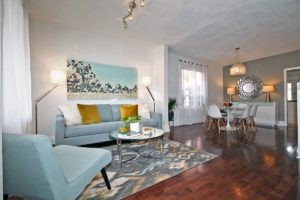 Royal LePage Real Estate Services Ltd., Johnston and Daniel Division
This spring, many Riverdale homes sold for much more than their asking prices in short time frames. Agent Sandra Pate wanted the same to happen for this semi-detached house, so it was listed $100 shy of $1-million when there was little else available in March. Four buyers took the bait and battled more than the asking price to gain ownership.
"Statistically, you have to have a lower price in Riverdale, otherwise you look overpriced," Ms. Pate said. "If you price it according to what you think it'll sell for, it'll just sit, which is a problem."
WHAT THEY GOT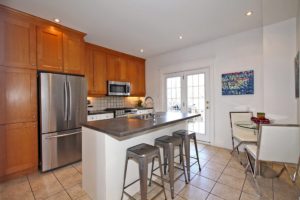 – The kitchen has new stainless steel appliances.
– Built circa 1912, this three-bedroom house retains its classic charm with some contemporary touches, starting with traditional brick façade and wide porch.
– Just beyond the front door are open living and dining areas with hardwood floors. The rear kitchen is equipped with new stainless steel appliances and access to a rear deck and lower level recreation area.
– The basement also has a separate exit to the 16-foot-by 120-foot grounds and parking by the laneway.
THE AGENT'S TAKE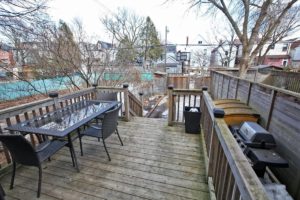 The outdoor space includes a deck and yard.
"It had pretty much everything you'd want: three bedrooms, a finished basement, a nice sized yard and it was in move-in condition, " Ms. Pate said.
"[Plus] it had good parking for two cars, which is hard to find [in Riverdale]."
However, its proximity to amenities on foot was an even bigger asset. "It's a super convenient, two-minute walk to everything, but removed enough so when it's a busy time on the Danforth you're not right in the middle of it," Ms. Pate said.
"The icing on the cake is Jackman School, which a lot of people hope to get into."